'Play turns out to be so stunningly essential to childhood, it's like love, sunshine and broccoli all juiced together" – Leonore Skenazy
What I can do for your family…
During the photography shoot I want to record the love and connections between you and your family…a whispered secret, a ride on Daddy's shoulders, a tickle with Mummy. These all fit

together and help me capture your style, your personalities and your family story. Every family is different so every family photography session is specifically planned around you and your family, whether that be capturing your blooming bump, littles ones, bigger ones, or extended family birthday gathering!
Before the family photography shoot
We usually chat several times in the months and weeks leading up to your family photography session so it all runs smoothly on the day. It's important for me to know who you would like to be there on the day and what combinations are important to you. It's great to start to get to know your family better by chatting about your children and finding out what they like doing and where they like to go. It's nice to use somewhere special to you – perhaps a park, play area, your garden or local woods. Or alternatively I am happy to suggest a suitable location depending on the time of year.  Perhaps we can play around in the daffodils in March, walk amongst the bluebells in May, pick apples in August, kick up the autumn leaves and climb trees in October! I undertake family photography shoots all over Surrey, Berkshire and West Sussex.  It's all about capturing your family having fun and doing what you enjoy together as a family. As soon as we confirm your date and location, I will send you a comprehensive 'Guide to preparing for your session'. This has plenty of tips like 'What to wear for your family photography session' to ensure you are ready on the day.
At the shoot
The photography session is all about FUN! Most tend to last about 2 hours, at a time of day that best suits your family. I try not to pose or direct you too much! My style is more natural, contemporary and colourful!  I like to capture you through play and allow you to be yourself. The sessions are full of movement and energy, and very much directed by the children! I find that the best shot isn't when I ask a child to sit still on a park bench and smile at me, it's a few minutes later when they are giggling at Daddy pulling a silly face!
If your children are shy or you're worried about tantrums – don't be, I am a mother and have seen it all before!  I like being silly, playing games, getting children to relax, be comfortable in front of the camera and have fun. I can do great animal impressions and have lots of finger puppets sure to bring a smile to any shy child or dissolve a tantrum. Rest assured I can handle most situations and have a good helping of patience! I am always happy to stop for snack breaks, nappy changes too – whatever we need to keep everyone happy!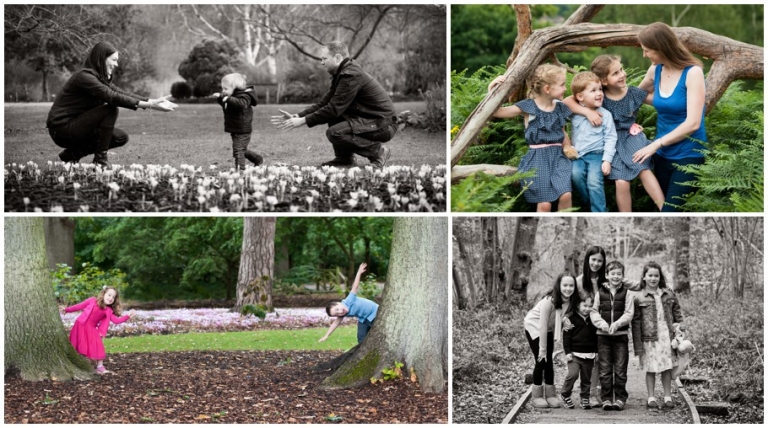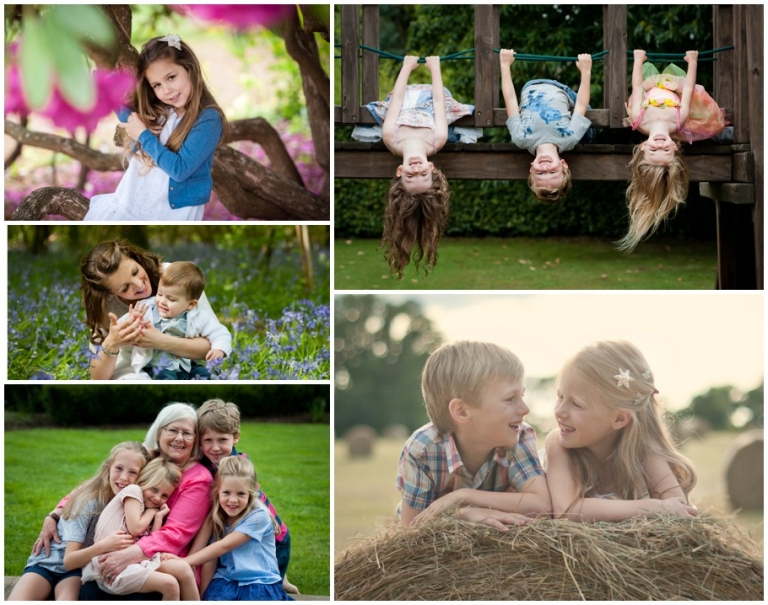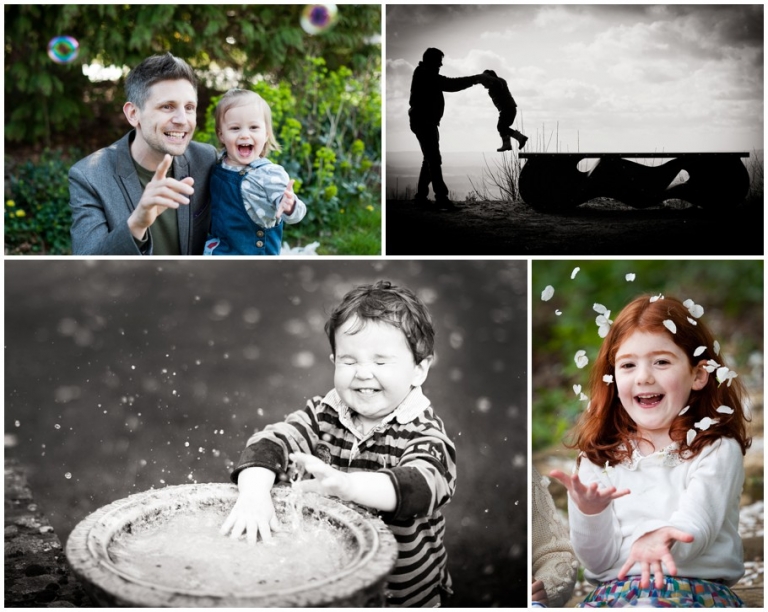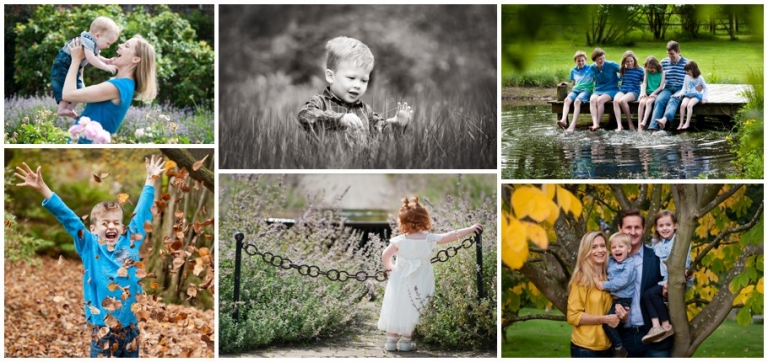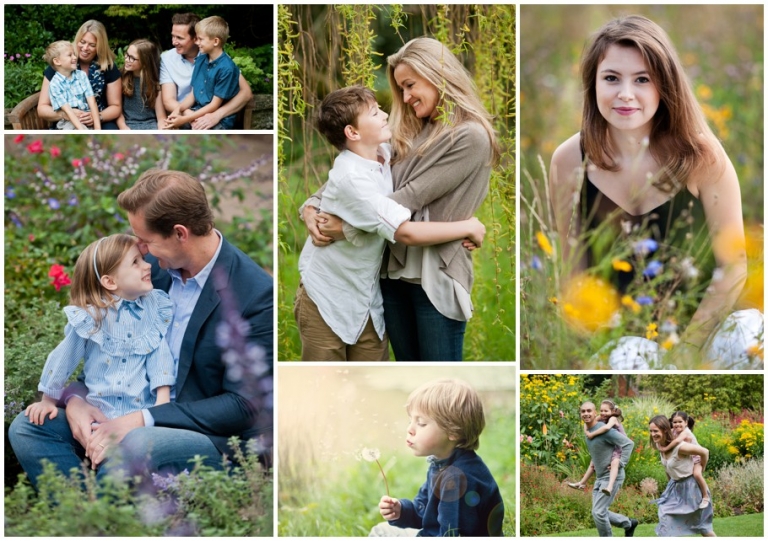 After the photography session

After the shoot you can give yourselves a pat on the back and a well deserved cup of tea (or perhaps something stronger!) as I head back to the computer to review your images! I then select the very best portraits to edit and retouch where necessary.
Understandably online viewing galleries can make you feel rather lost and overwhelmed, most people are not sure where to start when faced with a gallery of 50+ portraits! So I prefer to offer you a more personal service by inviting you in for a relaxed private viewing session in my studio. I will be on hand (with plenty of biscuits!) to show you a slide show of your edited portraits, and be able to guide and advise you on the wide range of stunning bespoke frames and canvas gallery wraps that I can offer to fit your home and budget and show off your images to reflect your personality and style. The walls are filled with examples big and small to give you some inspiration for your home.
For more family photography information on pricing, see the pricing page or contact me. Click to view my Family sessions gallery, Younger Children gallery, or Older Children gallery.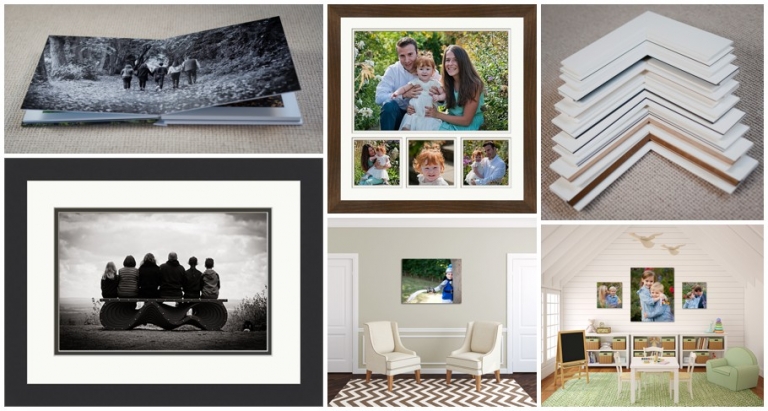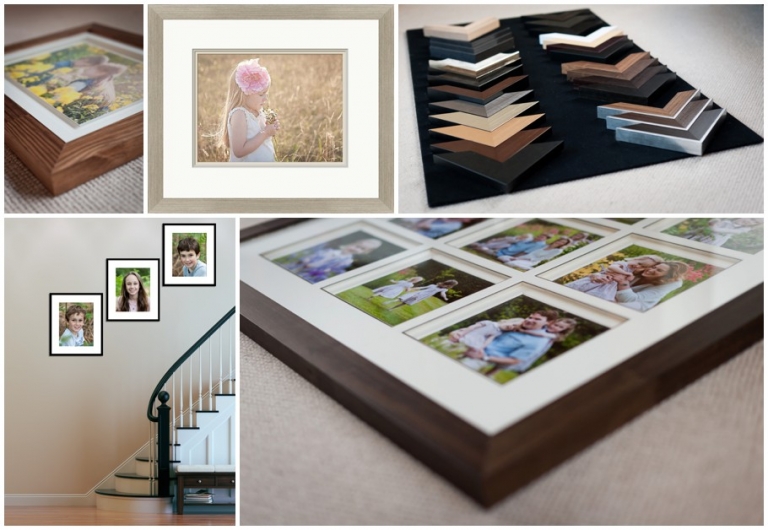 Please note – I only take on a maximum of 8 Clients per month, so that I have sufficient time to dedicate to each Client, and provide my Clients with the flexibility to reschedule the session date if we need to due to illness or weather. I tend to book about 2-3 months in advance, so please get in contact early to secure your session, especially if you have a particular time of year you'd like to book – e.g. bluebells in April/May which are very popular! Also bear in mind it takes about 6-8 weeks to deliver your final products from the shoot date, so if you have Christmas, Mother's/Father's Day or Birthday Gifts in mind, allow plenty of time! Thank you.


All images captured by Nicola Light Photography //
Professional Family Photographer Surrey // Professional Family Photographer West Sussex // Professional Family Photographer Berkshire