I am very excited to share with you a new personal project I am taking on in 2013 – 'My alphabet Project'! It's great to have a personal goal each couple of weeks to push me creatively and generally have fun with! Each couple of weeks I am going to work through the alphabet and photograph a new letter, encorporating what's topical at that time – either in my life or in the changing seasons and what that letter stands for! So to kick start January, here's A …
'A' is for APPRECIATION for the life I have – I appreciate every day I have with my precious little family, life is short, children grow up so quickly so treasure each day you have and enjoy those cuddles whilst you can. We've had some time off over Christmas so it was lovely to recharge our batteries, catch up with family and friends, and generally appreciate some fun family time. We were just packing up the christmas tree decorations when I took a photo of Alice's 'A' on the Christmas tree (her suggestion) so this first picture officially kicks off my alphabet project and hopefully a great year ahead for everyone!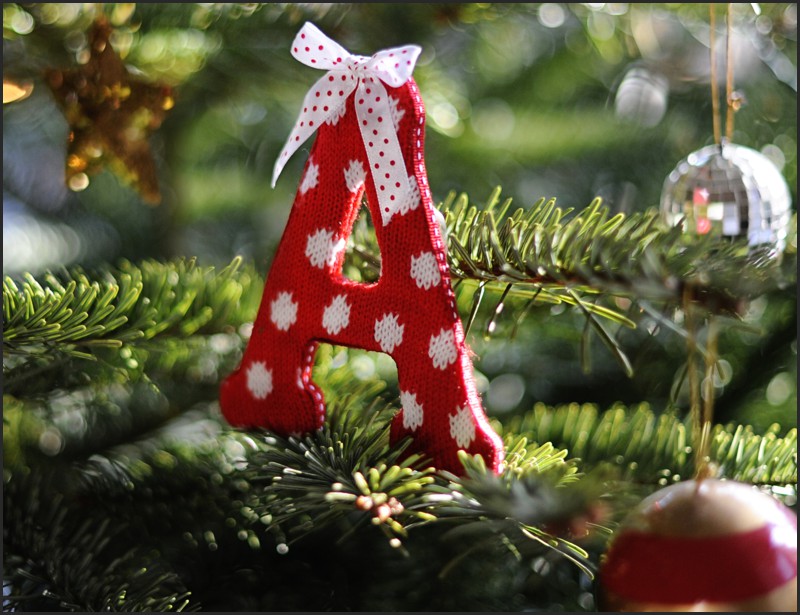 'B' is for BABY! I love, love, love babies….their smell, their soft skin, their little gurgles! If we won the lottery we'd have another few! There is nothing that compares to that first moment of meeting your own precious baby. I will never forget the feeling of first seeing Alice and Harry, that overwhelming love, pride, exhaustion and relief that the wait is finally over and you're actually holding your own little miracle. I have to admit I still have a little weep when I read a birth story and I always sobbed through 'One Born Every Minute' – I can't watch it anymore, I'm too emotional! Motherhood for me has been my greatest achievement and every time I see them playing, laughing and saying "I love you Mummy" my heart beats that little bit faster.
I love baby photography sessions because I get to see those early days of a bonding family – finding their way, getting to know each other and enjoying the amazing journey they are embarking on together (well in between the sleepless nights, sore boobs and endless nappy changes!). Here are a few of the precious babies I was honoured to be asked to photograph in 2012.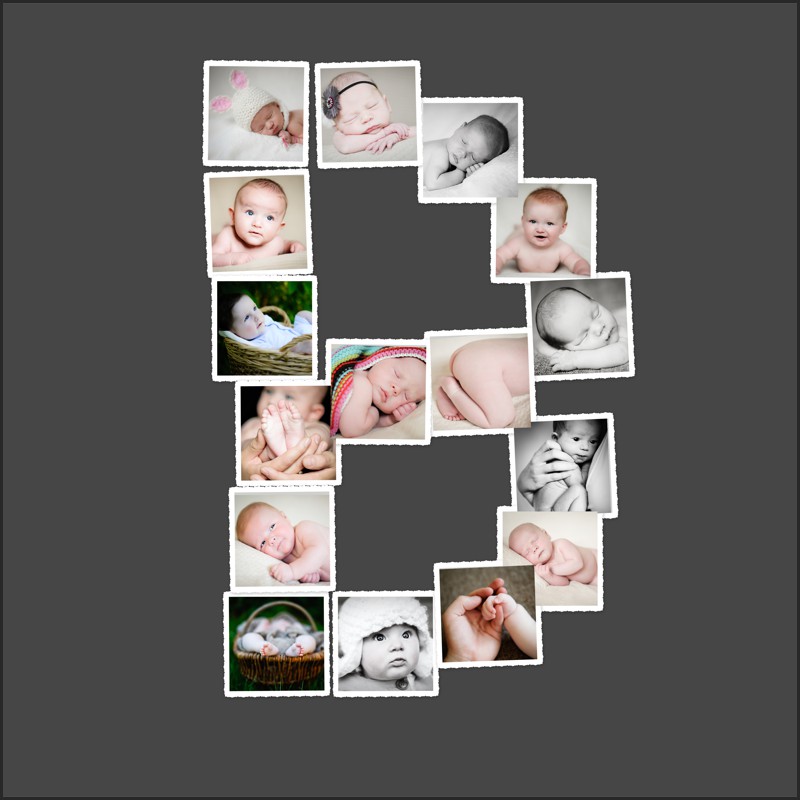 'C' is for Cranleigh –where we live! Captured in the snow last week!
We moved here from London in January 2008, a few months after we got married. We didn't actually know much about the village, but knew it had a great feel to it, we loved the house and knew it would make a great family home – which is lucky as exactly 9 months later our daughter Alice was born!
Cranleigh is the largest village in England, 8 miles South East of Guildford. It's a beautiful area in amongst the Surrey Hills.
St Nicolas Church, where our children were baptised, dates back to around 1170. The church has a gargoyle, situated on a pillar inside the church, which is said to have inspired Lewis Carroll, who lived in Guildford, to create the Cheshire Cat, from of course Alice in Wonderland, a favourite book of ours!
The village is a great size and has plenty to entertain us all from the Arts Centre, playground, library, pubs, 3 curry houses, Pizza Express and a piano bar!!!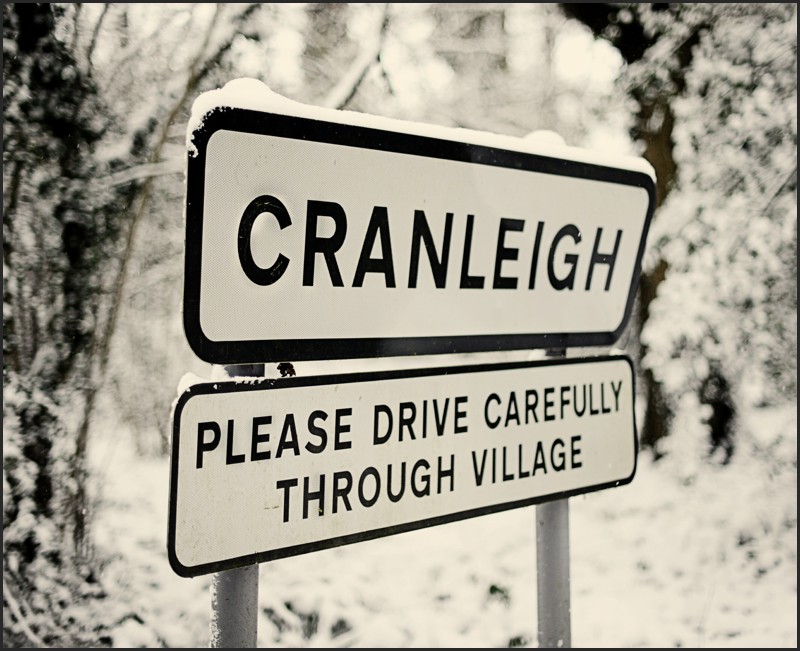 'D' is for Daddy
This is Ed, the Daddy in our family! We took these pictures at the weekend in Winterfold Woods at the top of our lane, where we love to have an adventure…climbing trees, playing 'hide and seek' and searching for The Gruffalo! Ed is the best Daddy in the world! Right from day 1 he was happy to get totally involved including nappy changes! Everyday he makes me smile seeing him with our children. He's an amazing Dad, so patient, kind, caring and nurturing. It brings a tear to my eye seeing him sitting so patiently with Alice hearing her reading, helping her with the words. He loves to take Harry to softplay, they are like two little boys together, it makes my heart melt! We are so lucky to have such a wonderful Daddy in our lives! Three cheers for Ed, love you xxx
'E' is for ELEPHANT!
Last week we had an amazing 3 days on safari in the Masai Mara in Kenya, celebrating my husband's 40th Birthday! We love an adventure – so it was a great choice for a short break to recharge, celebrate and enjoy a bit of quality time together. We visited the Mara 5 years ago on honeymoon so it was very special to return and see if we could spot any familiar faces! It was incredible – we saw lions, cheetah, leopard, giraffe, elephant and more zebra than I could count! The elephants were hugely impressive, I loved watching them slowly walk through the plains, so majestic and strong. These magnificent, proud animals have their long lives etched into their incredible skin. We really need to do everything we can to protect them and their habitat so we can all enjoy them for generations to come. A big 'thank you' to Govenor's Il Moran Camp for kindly hosting our wonderful adventure. If you're looking for a memorable Safari – Govenor's Camp is sure to be the place for you.
'F' is for Friends.
This is me with my best friend Emily! We met at boarding school so formed a very close friendship and have since had many adventures together like a ski season in Meribel, climbed Kilimanjaro and countless other holidays!  I had the pleasure of photographing Emily getting ready on her wedding day last November – what a special day that was. If you missed it, here is the link to Emily's Wedding Day. 
I am very lucky to have such lovely friends who mean the world to me! There's nothing quite like catching up and laughing a lot, usually over a glass of wine or two!
'G' is for Grandparents!
What would we do without them! I certainly appreciate everything our special Granny, Grandpa and Grandma do for us! I am very lucky to get on so well with my parents and also with my husband's Mum – yes I really do have a lovely Mother-in-Law! Earlier this month I took some photos whilst we spent some time together. These are incredibly special to me – I love capturing that unique bond between my children and their grandparents – there is always lots of fun and laughter, and generally being spoilt rotten, which of course is every grandparents right!
The pictures with my parents were taken in the garden of my family home 'Willow House' – which is this week being knocked down to make way for a new home they are building! So it was really important to record the last weekend I would be at the house that we have called home for the past 30 years. I have so many fond memories of Willow House, learning to ride a bike, using the loft as a dark room to develop my first pictures, making camps in the garden, and 5 years ago we had our wedding reception in the garden, happy days! The logs in the background are from the trees that had already been cut down to make way for the new development – I loved seeing the age lines in the logs and felt it poignant that my children were now clambering upon the trees that grew bigger as I did. But everything has it's day, and as emotionally as I find it that our home as we knew it, has gone, a new Willow House will be built, and I can't wait (a whole year!) to start making new memories with my parents and children. It'll be Alice and Harry's turn to learn to ride a bike in the driveway!
'H' is for my little boy Harry!
My son, Harry is now 2 and 1/2 and obsessed with trains! When I thought about how best to capture Harry being himself, the obvious place was in his bedroom on his train track! He plays for hours on this, pushing the little trains through the tunnels and across the bridge, down to the station to pick up more passengers – a new adventure every day! He's such a gorgeous little boy, so full of life and energy – he keeps me on my toes all day long! He seems to be changing and growing bigger everyday, so I love the pictures of his little hands and feet – he'll always be my special boy even when he's 6ft tall! We are going to the 'Day out with Thomas' on the Watercress Train Line on Friday – I can't wait to see his face light up when he sees Thomas and the Fat Controller!
'I' is the shape of our scaffolding pipes, that now literally cover our house! I am so excited to be converting our loft space into a gorgeous viewing studio!!! I am creating a wonderful space that has been designed to allow you to really enjoy your viewing experience with me! It'll be relaxing, fun and easy as I will have lots of stunning examples of wall art on display! I cannot wait for it all to be ready (hopefully August time!). So if you're booked in for a session then, you're in for a treat!
'J' is the shape of my golf clubs! I first started having lessons around the time I met my husband, I think it was one of the reasons he was attracted to me 😉 ! You see, my husband is golf mad! Our garden backs on to the 5th tee of a golf club, so he feels reassured that he's always in earshot of his beloved sport! I know he's keen for our children to play, and our daughter will have lessons when she turns 5. She can't wait to start, and already has a proper set of clubs, so cute! I am of course concerned I will be left behind as since having children I've not played at all. So I've started having lessons with some lovely girlfriends on a Monday morning. We love it – there is plenty of chat, giggles and encouragement in a thankfully relaxed group, so perhaps Mummy won't be quite so far behind once the children start playing!
So we're almost half way through and it's one of my favourite times of year as I really love the bluebell season! I always make a point of taking time to enjoy a few walks through the local woods with my ('K' is for) Kids!  We had a fun walk capturing my kids being themselves, enjoying time together and having a bit of an adventure! Alice dresses herself so I wasn't surprised when she chose her tutu and wings! She also insisted on taking her ballet shoes that she said she wanted to wear whilst tree climbing!!? We took a basket with us and filled it with lots of beautiful 'bells and then I asked the kids to shape them into a 'k' which was quite a challenge!
It fills me with such happiness and pleasure capturing Alice and Harry, they are growing up SO fast! What a lucky Mummy I am to have two such special little ones in my life. I can't wait to put this frame up on my wall!
The next letter in my Alphabet Project…. 'L' is for LOVE!
One of my favourite books to read to my children at night is 'Guess How Much I love You' by Sam McBratney. Such a gorgeous book to share together, if you don't know it, I thoroughly recommend it!
Guess how much I love you?
Little Nutbrown Hare, who was going to bed, held on tight to Big Nutbrown Hare's very long ears.
He wanted to be sure that Big Nutbrown Hare was listening. "Guess how much I love you," he said.
"Oh, I don't think I could guess that," said Big Nutbrown Hare.
"This much," said Little Nutbrown Hare, stretching out his arms as wide as they could go.
Big Nutbrown Hare had even longer arms. "But I love you this much," she said.
Hmm, this is a lot, thought Little Nutbrown Hare.
"I love you as high as I can reach," said Little Nutbrown Hare.
"I love you as high as I can reach," said Big Nutbrown Hare.
This is very high, thought Little Nutbrown Hare. I wish I had arms like that.
Then Little Nutbrown Hare had a good idea. He tumbled upside down and reached up the tree trunk with his feet.
"I love you all the way up to my toes!" he said.
"And I love you all the way up to your toes," said Big Nutbrown Hare, swinging him up over her head.
"I love you as high as I can hop!" laughed Little Nutbrown Hare, bouncing up and down.
"But I love you as high as I can hop," smiled Big Nutbrown Hare – and she hopped so high that her ears touched the branches above.
That's good hopping, thought Little Nutbrown Hare. I wish I could hop like that.
"I love you all the way down the lane as far as the river," cried Little Nutbrown Hare.
"I love you across the river and over the hills," said Big Nutbrown Hare.
That's very far, thought Little Nutbrown Hare. He was almost too sleepy to think any more.
Then he looked beyond the thorn bushes, out into the big dark night. Nothing could be farther than the sky.
"I love you right up to the moon," he said, and closed his eyes.
"Oh, that's far," said Big Nutbrown Hare. "That is very, very far."
Then she lay down close by and whispered with a smile, "I love you right up to the moon – and back."
'M' is for Mummies of course! The top pictures is of me with my littles ones. The rest are a selection of Mummies I have photographed in the past few months.
I think we all have to say three cheers to all the fab Mums out there who do an amazing job juggling running the house, bringing up the children and often working too!
'N' is for Nicola and a few things that I love, aside from my family and photography, which we all know are my biggest loves!
1. Blackberry and apple crumble with masses of custard, preferably at the end of a Sunday lunch at a local pub.
2. Having a rummage through an antiques shop and finding a hidden gem that's been loved for years and is ready for a new home.
3. An adventure! Rather less dangerous since having kids, but still love to get out and have a mini adventure on the weekend!
4. Skiing. There's nothing quite like wooshing down the mountains on a clear blue sky day.
5. Feeling the sand between my toes, preferably in the caribbean rather than the playground sand pit  😉  but the latter is fun too!
6. Being with friends and laughing out loud so much that my sides ache.
7. Christmas. I love the nativity play, the parties, decorating the tree, wrapping presents, crib service and of course the big day itself!
8. Hearing the crackle of an open fire, whilst snuggling on the sofa.
9. Flowers. Wild or in a garden or a vase, love them all especially peonies.
10. Flicking through a cookery book and choosing a new recipe to try out – and keeping my fingers crossed it's delicious!
'O' is for OPEN!!! It's taken 3 months to complete but the builders have packed up and my new viewing studio is open for business! I am thrilled with the results and the clients who have been in, love it too! I've created a gorgeous dedicated space for giving you a lovely environment to view your portraits and with plenty of examples on the walls and a huge range of bespoke frames mouldings to view, it's an easy way to choose how to display your favourites.
I also do baby photography up to 3 months here. Which again has been well thought through with a well equipped bathroom for changing and a suitable nursing chair.
Feel free to pop in, have  a look round and have a chat about how I can capture your story – I'll pop the kettle on and get the biscuits out!
Letter 'P' is for poem!
Our recent building work revealed some surprising insights into the history of our cottage, a beautiful home with bags of character built in 1929. As they tore down the walls we saw a glimpse of life along the years, some blue tiles from an old fireplace, some orange wallpaper, an old coin, a hand written note….all hidden away for years then briefly exposed as the house changes shape again. I bet these rooms could tell some stories! We know the man whose parents built the house as their farmhouse, and was in fact born here. I don't know how many people have lived here since but I do know the house has had 3 'Alice's' live here…! The lady who built it was Alice and we didn't know this when naming our daughter but I think perhaps she was in our thoughts somehow.
When we were designing the bathroom for the loft studio I wanted to incorporate a freestanding cast iron bath, although I hadn't realised quite how heavy it would be and took 5 men to carry it up – they all deserved a cup of tea after! I wonder if it'll ever come out, but if it does, one day someone will read the poem I wrote on the underside of the bath and perhaps wonder who I was. It's exciting to think of who might find it one day…
Q is for 'Quirky'
Check out this tree art we saw on Brownsea Island in Poole Harbour! The hearts are painted on lots of different trees and rocks, so that if you stand at just the right spot you can see the  whole shape, very clever!
'R' is for recommend! We've had such a lovely summer visiting some great places that I thought I would share some of them here, in case you need a bit of inspiration for the final push of the summer holidays! Excuse the photography, these were mostly taken on my phone, but you get the feel of the places!
Abinger Hammer, between Dorking and Guildford has a stream running through it, which makes a lovely safe paddling area for little ones. I first went there on a Brownie camp many moons ago 😉 Take a picnic and make a day of it. We love a farm and often visit Fishers Farm Park in West Sussex or Bockett's Farm near Leatherhead which has pig racing!
My parents took me as a child to Wellington Country Park so it was quite fun to return with my children for a friend's daughter's party in July! Lots to do, a miniature train to ride on, lots of play areas and a farm. In the summer they have free parties – we went to the fairy and pixie party, it was brilliant! We had a great day out in Brighton last week, lots of fun on the pier and a swim which was actually not too cold!
To please my train mad son we paid a few visits to the Great Cockrow Railway near Chertsey in Surrey. It's a little ride on steam train that's open on Wedneday afternoons and Sunday afternoons in the summer and is run by some old train enthusiasts, very sweet! Ask to try the drivers hat on! More on the train theme – The Watercress line (Midhants Railway) in Hampshire is a great day out, particularly if you go on one of their theme days. We've done the Santa special and The Thomas day out!
We love National Trust and RHS properties. They are so clever at pleasing both adults and children. My children love the quests and treasure hunts and craft activities they run! Polesden Lacey and Wisley Gardens are our favourites.
Have you been to Bekonscot? Another very special place that I visited as a child! It's a model village that my kids LOVE, particularly when we meet Granny there too!
We've visited The Look Out Discovery Centre near Bracknell in Berkshire – always a great day out. The main attraction is their hands-on science exhibition which has over 90 activities for children of all ages so it's a great option if you are looking to entertain children of several different ages! They also have a huge adventure play area outside and miles of trails in the woods, so take your bikes.
Last but not least Peppa Pig World which I am sure some of you know about! A brilliant day out, even if you are still singing the theme tune several days later!
It's been a busy bumper summer of fun when I look at these all together! Happy days and I hope you enjoy some of these special places too! Please do leave a note below if you'd like to recommend somewhere to me?
'S' stands for school because thursday is a very special day…Alice's first day at school! She is so excited and has tried on her uniform more times than I can remember over the holidays! She loved this shoot of her in her uniform (including obligatory oversized blazer!) and insisted on getting her ballet kit on too!
I cannot quite believe where the last 5 years have gone!!? Alice is a September baby so she is very old for her year and certainly ready to take on the challenge of school…but am I ready to let her go? Ummmm I am trying! I feel so excited for her, what an exciting new chapter, but at the same time I know I am going to really miss her and will find thursday quite emotional. It's good that I have a family shoot at 10am to take my mind off it I think!
I'd like to wish everyone good luck and most of all a really fun year at school whether it's your little ones first day or your big ones last year! Tissues at the ready please!
'T' is for twins! I've had 6 sets of twins to photograph so far this year – double the trouble or double the fun??! I think mostly the later! 🙂
Here they are ranging from 6 days to 6 years!
'U' is for 'unbelievable'….summer! Didn't we enjoy such a fantastic proper British summer.  Day after day of glorious sunshine, which certainly put a smile on my face every day! I had such a great time photographing so many families in the most spectacular settings- just look at all those beautiful flowers! 
'V' is for Voucher!
For those that don't know, I LOVE CHRISTMAS – even more so now that I am a parent. I can't wait for the nativity play, panto, decorating the tree, visiting Father Christmas in his grotto and of course the shopping for Christmas gifts!
If you are looking for a special gift for your loved one, a friend or your parents, why not consider one of my beautifully packaged gift vouchers which can be used for a family portrait session in 2014. Let me capture some precious memories that will last longer than a woolly hat or a bread maker!
My Christmas gift vouchers are £150 and include a 10"x8" silver frame for your favourite portrait as a gift with your final order (worth £125)! So get in touch soon to secure your special gift for your loved one.
Just a few letters left in my alphabet project that I started in January! 'W' is for Winkworth Arboretum! I thought I would share some of my personal favourites from shoots over the past 6 weeks at this great spot, capturing the best of the autumn colours. We always have so much fun when we're there and kids love it!
The National Trust (who own Winkworth), are an amazing charity that works to protect and preserve historical places and spaces, for all of us to enjoy for years to come. Why not consider membership for a loved one for Christmas?
They are brilliant at getting kids outdoors enjoying the countryside and connecting with nature rather than starring at the tv or a computer!
We love their free booklet:  50 Things to do before you are 11 3/4. I think we're about half way through…we might do  "Build a den this weekend"!
So go on throw on your wellies and get the kids outside – take your camera too!
'X' is for Xmas! We are getting very excited in our house! We sat down this week and wrote our letters to Father Christmas! There are all sorts of goodies they want, so we shall see what the big fella comes up with 😉 !
Don't forget to take lots of photos over the festive season to record all the fun times. A photo taken on your phone to capture a special moment is just as important as your professional portraits. This photo was just taken on my iPad but it caught the kids just before we went off to the letter box!
I hope your preparations for the big day are coming along well, I love the build up!
'Y' is for Year. Wow, 2013 has been an adventure, I couldn't have asked for a better year! I've had a lovely few days, looking through my photography sessions from this year, remembering all the fun and laughter, and of course the odd meltdown! I feel so honoured to have been asked to photograph so many families throughout Surrey and South London. The memories we've made together have been so precious and I hope you have been enjoying seeing them on my blog, as much as I have enjoyed creating them. It's so exciting to capture bumps, babies and cheeky children – there have been plenty of the latter, I love it! Every family is unique and it's wonderful to get to know them, find out what they like doing and capturing them somewhere special to them, doing what they love. Below are a selection of some of my personal favourites. It's been a busy year so there are quite a few!
I'd also like to take this opportunity to thank my family for their unending support this year, and my lovely Clients for asking me to capture their memories. I wish you all a very Happy Christmas and New Year – may your homes be filled with laughter and love.
'Z' is for Zzzzzzzzzzzzz!
This is photo was taken of my daughter sweetly dreaming of princesses and fairies no doubt! It seemed like an apt way to finish off my alphabet project. I love watching my children sleep, it's the best sight in the world. Just to be able to watch them and know they are happy, safe and healthy makes me smile.
What a year it has been, I am so glad I've completed the project I set out to do over 2013. I didn't quite know what direction it would take so it's fun to look back on all the fun memories the year has given us. I can't wait to see what 2014 has in store!
Thanks for following! x