You don't have to be a professional, to want to improve your photography.  All the snapshots of everyday life are just as important as your professional portraits. Here are a few easy tips I'd love to share with you to help you improve!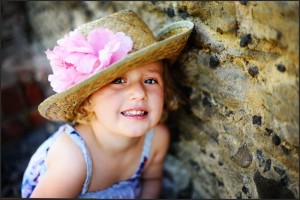 1. Think about your composition. You can create a more interesting picture when your child is not in the center of the picture.  Position them to the left or right and don't be afraid to leave some space in the direction they are facing. You'll be amazed at the different feel you'll capture by not having your child exactly in the middle facing towards you!
When photographing groups try not to arrange people in a line – add some interest by varying the heights by getting some people to sit/stand or try using a chair or holding your children!
2. Keep it simple! We've all seen pictures with a big bus in the background, or a pole sticking out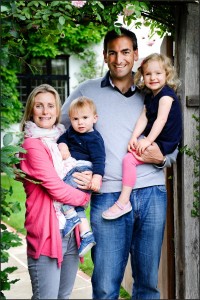 of someone's head! Look at the background before taking a picture and either move your child or move in closer to eliminate things in the background that may be unsightly or distracting! Also, think about what your family are wearing – choose a few simple colours that work well together and avoid distracting patterns or logos!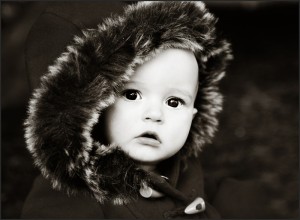 3. Get in Close.  Often pictures are filled with the background and the subject is lost.  While the scenery is beautiful, sometimes the most important thing you'll want to see a few years from now are those little noses and freckles!  Don't be afraid to get up close and personal, that's where all the important stuff is!
4. Capture the detail. I love capturing tiny hands and feet, particularly of newborns and young 
children.  Our children grow so quickly, so it's great to remember how tiny they were. Try placing your hand or foot near your child's so you can remember the contrast of size in years to come!
5. Crouch down and take pictures at your child's eye level. Unless there is a specific mood or message to the picture, eye level shots are generally the most pleasing. But you could try a dramatic effect by shooting directly above as your children play in the grass.
6. Watch your Lighting. Avoid using flash, as it creates harsh shadows and "red eyes" in people
 and animals.  Also, try to shoot with the sunlight behind or to the side of your family, without having the sun in the shot. By keeping the sun out of the subjects' eyes, it will minimize their squinting and create a more flattering evenly lit portrait.
7. Capture the emotions of your children. A fake 'say cheese' smile is easily seen through! I like to tell a joke or a silly story to get children to relax and show natural emotions on their faces. Candid, unposed moments are far more likely to record your child's true personality.
8. Make it FUN! I like to make every photo shoot an adventure so the children enjoy themselves
 and we get some natural, fun and relaxed portraits. So go somewhere the children love to play like the woods, a favourite field or the playground. Include environmental props like leaves, sticks and flowers to create a story. Photograph your child with their favourite toy like a bike or a much loved teddy. Blow some bubbles, use balloons, accessorise with hats or tutus, dress up like a pirate or fairy – capture whatever your children like doing at that age! Don't forget to choose a time of day when your children aren't tired or hungry so you can all enjoy the experience!
9. Capture the seasons. Why not try to take photos every month to make into a calendar at the end of the year. Perhaps you could take shots of your children in the snow, the daffodils, bluebell woods, strawberry picking, kicking up the autumn leaves and decorating your Christmas tree!
10. Carry your camera with you! The best way to improve your 
photography is to keep shooting! Especially with the cost-effectiveness of digital cameras. Record special occasions like your children's birthday party, that first smile, their first steps or learning to ride their bike! Most importantly have fun recording some wonderful memories to treasure for a lifetime.
Don't forget to charge your battery, have plenty of space on your memory card, and download your precious memories on your home computer, and use some sort of back up!
Finally – always put safety first when photographing your children. Make sure they are safe and comfortable at all times!
I will be running a series of informative talks in 2013 at G live with Busylizzy so get in touch if you'd like to come along to hear more or ask questions!
If you're looking for pregnancy, newborn baby, children's photography or family portraits in Surrey or the surrounding counties I'd love to hear from you. If you'd like to see some recent portraits, please do view the galleries of bumps and babies, younger children, older children or families, or have a look at some past blogs featuring recent sessions. If you'd like to know more about me, information on family sessions, or baby sessions, what to wear or investment follow the links. There is also a page on my past Clients kind words so you can hear for yourself what it's like to capture your precious memories. If you'd like some further information please contact me –  I look forward to hearing from you…x