It's January and time for a few New Year's resolutions! Enough of dieting and endless promises to spend more time at the gym (or is that just me??!), I have a new one for you – it's time to organise your family photos!
Most families take hundreds of photos during the year capturing birthdays, holidays and nativity plays! But sadly, photographs, like other mementos, can be overwhelming. New Year is a great time to get your photos organised for the next year. You could even make it a family project, reliving the memories while you sort and file!
Here are my top tips for organising your photos!
1. First step – upload your digital files from your camera/phone REGULARLY! Imagine if you lost your camera or if it was stolen and you lost all those preciously memories too!
2. Once they are on your computer, create a system for organising your digital files! I file my family pictures by year and season so I can immediately (and rather smugly, teehee) find pictures I want. Some people like to also include sub folders too for special occasions like birthdays or Christmas. Once they are saved where they should be – BACK THEM UP! Whether that's on a disc, an external hard drive or some other cloud storage.
3. As you sort through your photos/digital files get rid of blurry, out of focus photos. Pick the best and get rid of the rest! There's no need to keep several copies of the exact same subject matter. If you have extra photos send them to family and friends, and throw away the rest.
4. If you have a pile of old photographs that have been sitting there in a big pile starring up at you for a while, it's time to sort them out! Write the month and year on the back of each photo, and the names of everyone in the picture.  Even though you think you will remember, it's a great fall-back!
5. Have a specific place to keep photos. Invest in an archival-quality photo box – one that is acid-free and lignin-free. These are sold at craft shops or online . Store all photos in a cool, dry place – not the basement, attic, or garage.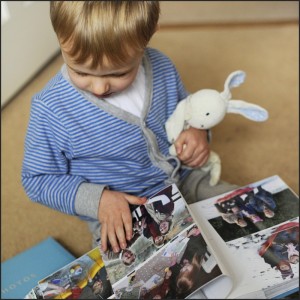 6. Last but not least, place your favorite photos into albums. My children love looking through theirs, particularly when family or friends are far away. They each have their own set of albums which record all their special moments and I am sure in years to come it will help them to remember their precious childhood memories.
7. Stick with It!! This is the most important tip of all! Once you've done all this work to get organised, the last thing you want to do is let it all fall apart! Next time you get pictures back from the developer, take the extra few minutes to write the year on the back and even a description of the event and/or people (with an acid free pen!) and put the pictures in the appropriate album or box immediately! It helps to keep everything accessible so it involves as little time as possible. After clearing out the "clutter photos," you'll look and feel thinner (or at least your photo collection will)!
Good luck! x